Welcome to Hair N Images! Want to get rid of hair loss and baldness? Want to have your natural and younger-looking hair back?
You have found the best hair transplant Clinic in Surat – Hair 'N' Images.
Hair N Images hair transplant Centre is the premium clinic for hair transplant in Surat and cosmetic surgeries. We are the best in providing high-quality, long-lasting, and satisfactory hair restoration treatments in Surat. At our clinic, all the modalities of hair transplants are being performed as per the need of the client. We strive to provide results above the expectations of our patients. We strive to offer the best quality hair transplant procedure in Surat and Vapi for our clients.
With the most highly qualified team of surgeons working with dexterity in this field. We have successfully served numerous patients across Surat and Vapi. So you can rest assured that we are dedicated to ensuring your comfort and unbeatable results. Since 2002, Dr. Mohit Srivastava is heading Hair 'N' Images clinic. He is one of the leading hair transplant doctors in Surat and Vapi. Dr. Mohit believes in providing a complete and comprehensive hair care regime. This makes Hair 'N' Images one of the best clinics for hair transplants in Surat.
As one of India's best hair transplant centres, we provide you with all the information you need to know about hair transplantation so you can choose the best hair loss treatment for you. As a result, you will be able to make an informed decision based on your needs and objectives.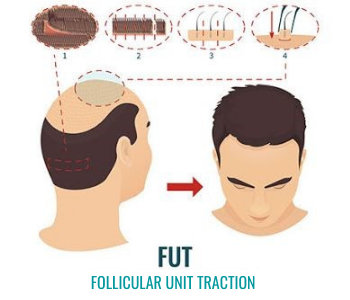 Surgical Treatment: To treat visible baldness
1. FUT – Follicular Hair Transplant
It is a strip technique wherein a strip of hair-bearing skin is initially taken from the back of your head. The strip is then separated into individual hair grafts. The surgeon transplants these individual grafts on the bald area. Though the strip method results in a scar, with the help of our qualified Surgeons at Hair 'N' Images you will achieve the natural-looking result. We guarantee 100% natural-looking results, this is what makes us the best hair transplant clinic in Surat.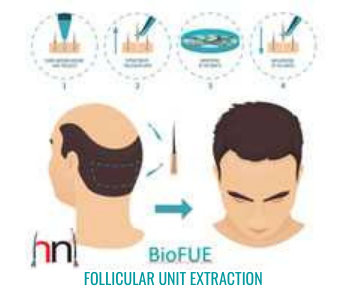 2. BioFUE
BioFUE is a more advanced version of basic FUE (Follicular Unit Transplant). The method involves extracting individual grafts directly from the donor area and implanting it in the recipient area. Here the difference is that before implanting the grafts, we put them in the PRP solution for nourishment and growth factors. This increases the survival of hair grafts. This also helps in faster and natural-looking hair growth. Our surgeons at Hair 'N' Images clinic are experts in performing this advanced technique.
3. DHT – Direct Hair Transplant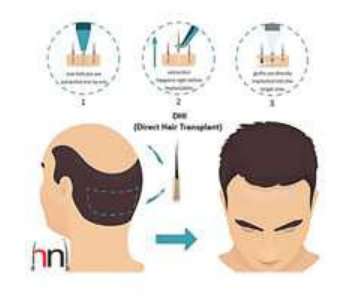 DHT is another modern method of hair transplant. It involves the extraction and implantation of hair grafts simultaneously. This procedure is majorly performed with the help of Choi Implanter. It is a pen-like device ensuring efficiency in the procedure. This method helps in completing the surgery faster. We can use this technique for all types of hair. Results appear within two months with quick post-surgery recovery.
To find the best suitable treatment for your problems, we suggest you get a consultation from our experienced surgeon.
This is how we do a consultation at our clinic:
1. Call our appointment booking number and schedule a date and time to visit our clinic.
2. Once you visit our clinic at the stipulated appointment schedule, our surgeon will be available for consultation.
3. Tell him your hair loss problems and what you expect from the treatment.
4. Our surgeon will do the Microscopic and Trichoscopic check-up of your scalp to check the health of your donor area.
5. Our surgeon will check if you are a suitable candidate for a hair transplant or not.
6. Accordingly, he will discuss with you a suitable line of treatment.
Due to the COVID 19 situation, we encourage you to send us photos or a video of your head area. We will do an online consultation, guiding you completely for the best treatment suitable for you.
Why choose Hair 'N' Images Clinic?
1. Expert Customer Service
While providing the treatment, we maintain proper hygiene protocol. Our advanced infrastructure ensures the safety of our clients throughout the treatment. We ensure you that we conduct the best hair transplant in Surat at an affordable cost.
2. Guaranteed Customer Satisfaction :
We have carried out thousands of successful hair transplant procedures. We take pride in our services, and we assure you that our team will offer you the best results. Our client's satisfaction is our top-most priority on which we never compromise at any cost.
3. Standardized and advanced treatments :
We are well-known for providing modern and effective treatments for our patients. We have a record of providing above the standard and advanced treatments. The centre is fully equipped with the latest technology with high-end facilities and advanced instruments, which is why our patients consider us to be one of the best hair transplant clinics in Surat.
4. Experienced and trained staff :
Our staff is highly trained and experienced to help you get your natural-looking hair back. We have successfully performed more than 2200 hair transplant surgeries at our clinic. We do the sensitive part of the procedure manually without being dependent on machines to reduce errors and damages. At our centre, our head surgeon performs all the surgeries and not technicians.
5. High Success rate :
High Success rate Hair 'N' Images has a record of providing successful hair transplants. This is why we are considered to be among the best clinics to offer hair transplants in Surat. To date, we have not received any severe complaints from our patients after the transplant. We have delivered natural and younger-looking results.