Hair weaving is a non-surgical treatment. It includes fixing hair patches using glue or clips into your scalp and merging them well with the existing hair. Although it is only a wig, it looks so natural that no one can point it out.
This blog gives information about hair weaving treatment, its procedure, its advantages, and more.
Hair Weaving Treatment
Hair weaving treatment is an inexpensive and convenient alternative for people who cannot undergo a hair transplant surgery due to their skin problems or for some other cause.
High-end hair weaving treatment is now available at a few of the famous hair transplant clinics in Surat. It helps cover large areas of hair loss in no time with patches of hairs that resemble existing natural hairs.
Some patients misunderstand hair transplantation and hair weaving. However, these are not the same as hair transplants involve permanent growing hairs that can be trimmed and styled.
Hair weaving, on the other hand, is nothing more than a wig pasted on the scalp. It gives a similar or fixed appearance and an artificial feeling. Hair weaving is the process of applying hair to hide baldness or enhance the look of existing hairs. You can use natural or synthetic hair patches.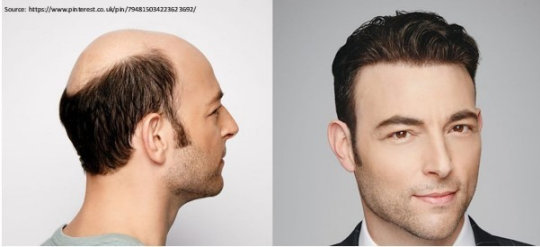 Hair weave is widely used to treat various phases of baldness. But for some patients, it often remains the only choice. Different hair-wearing styles, such as netting, fusion, bonding, tracking, lace extensions, and micro braiding, are available at some hair clinics in Surat.
You can choose your hair type and look based on your personal preferences that best suits you.
The Process of Hair Weaving
Qualified hairstylists usually do hair weaving. Even some hair transplant doctors in Surat are adept in this procedure. The cost of hair weaving differs greatly depending on the level of experience and skills.
Artificial hair extensions are tied to the actual hairs on the sides of the scalp, where a spot of baldness occurs over the scalp. They are bound in such a way that routine tugs and pulls won't loosen the extensions.
The larger the bald area, the bigger the weaving area, so more extensions are required. These weaves trigger traction alopecia, which causes the bald region to become larger over time. These hair weaves are frequently taken out for washing the scalp at 2-3 months or even 6 to 7-month intervals.
Advantages of Hair Weaving:
Cover large areas easily
Painless can be done in an hour
Can be done in people who don't have good donor areas
Cost-efficient
Good quality weaving looks very natural
Disadvantages of Hair Weaving:
Gives a fixed look
Hair doesn't grow in length
What role does hair weaving have in the field of hair transplantation?
When a person's donor hair supply is so inadequate that a hair transplant isn't possible, hair weaving is always the only option. Hair weaving is usually recommended when a hair transplant is not possible due to a medical condition.