Your scalp hair is the aesthetically significant feature of your overall image. That is the reason for hair loss being one of the most alarming problems in your life. Hair fall is a natural process, but when it turns into severe hair loss, you cannot avoid it.
Multiple options are available in the market to treat hair loss. You may have used a few of them like tropical cosmetics, oil, natural herbal ingredients, etc.
But the result was not satisfactory. However, restoration of your scalp hair is a matter of significant concern for you.
In this situation, PRP treatment for hair loss can be a suitable option for you.
Welcome to Hair 'N' Images hair transplant centre!
If you are searching for the best clinic to get rid of baldness, you should visit Hair N Images, the best hair transplant clinic in Surat. We provide the premium quality PRP hair restoration treatment at an affordable cost. It will help to stop your hair fall and stimulate natural hair growth.
Hair N Images is recognized as the premier centre for hair and cosmetic procedures in the state of Gujarat. Our treatment procedure is well designed with the most innovative modern technologies and equipment.
We work with the most efficient team of highly experienced doctors and technicians. We aim to benefit you with the best treatment using advanced medical techniques.
Our chief hair transplant surgeon, Dr Mohit Srivastavais one of the renowned hair transplant doctors in Surat. He is a highly talented doctor with more than 15 years of experience in hair restoration treatment.
What is Platelet-Rich Plasma treatment?
The Platelet-rich plasma (PRP) therapy is a hair restoration technique where your plasma cells are used to stimulate hair growth into your scalp.
In this procedure, platelet-rich plasma, which is taken from your blood, is injected directly into the scalp. Your platelet-rich plasma has nutrients that trigger the hair follicles in your scalp.
It leads to the rejuvenation of your damaged tissues which eventually results in the regrowth of your hair. The treatment is beneficial for male pattern baldness. As a result, it is gaining huge attention nowadays.
How is the procedure performed?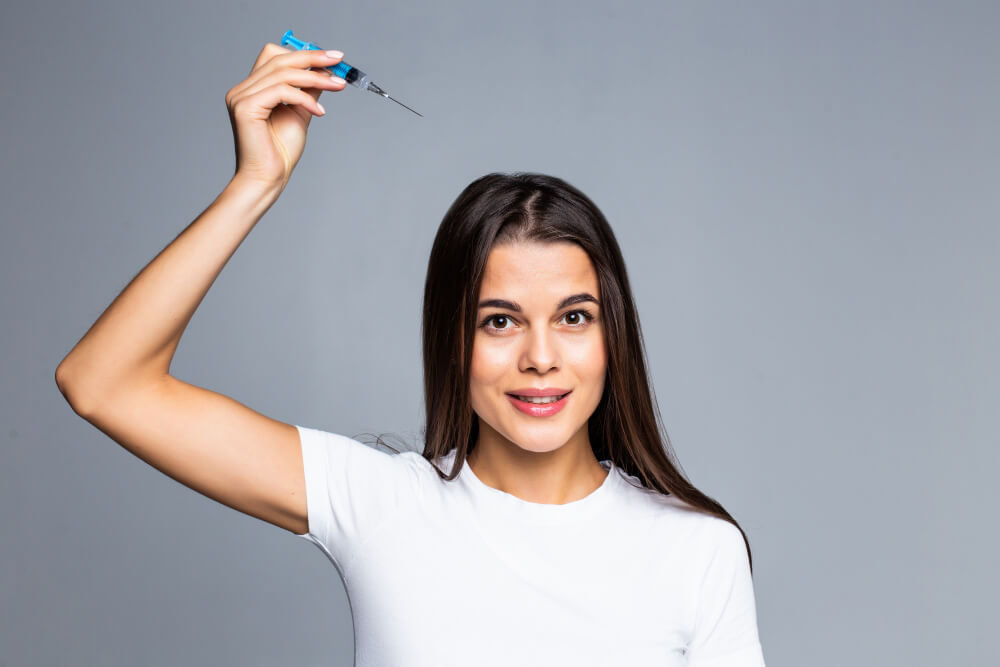 The procedure that we follow while performing PRP is as follows:
Step 1- Extraction of about 50 ml blood from your arm.
Step 2- Spinning the extracted blood in a centrifuge machine to separate platelet-poor plasma, platelet-rich plasma, and red platelets.
Step 3- Cleaning your scalp with an iodine or alcohol rich cleaning agent.
Step 4- Injecting the platelet-rich plasma into the bald region of your scalp.
This is how 1 session of PRP is completed. Generally, it requires four to six sessions in a duration of four to six weeks. You may require to visit our clinic for a few maintenance sessions.
Cost of PRP treatment :
The PRP hair transplant cost in Surat varies from Rs. 3000 to Rs. 5000 approximately for each session. Whereas the price will vary from patient to patient. The main factors behind the cost are as follows-
The number of sessions you need.
The density of your hair.
Your area of treatment.
Book an appointment to know more about your PRP treatment cost.
Advantages of PRP Hair treatment :
The treatment is less painful
No scope of having scar as it is a non-surgical process
The procedure is very safe as it is done by taking your blood
It brings back your natural hair growth
There are no long-term side effects
The cost of the treatment is less than the surgical procedures
Why Hair N Images Clinic?
We at Hair N Images have proven ourselves to be the best hair loss treatment centre for the following reasons-
Our standardized and advanced treatments - Our treatment is fully equipped with high-quality tools and technologies which as per international standards.
Well trained and highly experienced doctors - All our doctors and technicians are well skilled and highly experienced. They provide premium quality treatment.
Expertized customer service – At Hair 'N' Images clinic we are focused on providing you expertized customer service. We take care of our customers' satisfaction over everything.
The guaranteed result – you will get a guaranteed outcome after the completion of our PRP hair restoration treatment.
High success rate – Our treatments are having a high success rate.
Personalized treatment options for all –We provide personalized treatment to all our patients for their most significant benefits.
Frequently Asked Questions
1. Is PRP treatment safe?
The PRP therapy is very safe because it uses your blood cells to rejuvenate hair follicles present in your scalp.
2. How soon shall I wash my hair after the PRP session?
You should wait for at least 48 hours after your session. After that, you can use any skincare products.
3. Who should not avail of PRP treatment?
People who are suffering from:
Cancer
Immunosuppressive disease
Chronic liver disease
Platelet abnormality
Infectious dermatological disease
Pregnancy-related issues
4. How long it takes to complete each session of PRP treatment?
Generally, it takes only about one hour for each session. You can quickly return to your daily activities right after your session.
5. Is there any scope of infections in my treatment area?
You may develop inflation, redness, infection, bruising right after your treatment for a few hours or days.