Welcome to Dr Mohit Srivastava's Hair 'N' Images hair transplant centre!

Do you envy the beautiful eyebrows of others?

Do you want to have thick and bold eyebrows?
Well, you must consult with Dr Mohit Srivastava at Hair N Images, the best hair transplant clinic in Surat. Eyebrows are the most highlighted facial element of an individual. They help to make your eyes more beautiful, and your face looks more appealing.
Everyone does not have the ideal thickness and length of eyebrows. Therefore, they use cosmetic items as a solution for their thin eyebrows; however, that again is a temporary solution. An eyebrow hair transplant treatment in Surat is the long-lasting and ultimate solution for having thick eyebrows.
At Hair N Images Clinic, we provide the customized eyebrow hair implant treatment to our patients at an affordable cost. It will give you aesthetically natural eyebrow hair growth. Our treatment procedure is well equipped with modern technologies and tools as per international standards.
We have the best team of highly experienced doctors and technicians. We aim to benefit you with premium quality treatment. Our chief hair transplant doctor, Dr Mohit Srivastava, is well known for his 15 years of experience in eyebrow hair transplants.
Let us discuss the eyebrow hair transplant
Eyebrow hair restoration treatment is a procedure where our doctor transplants hair follicles to your thin eyebrow line. The hair is extracted from your scalp and implanted into your eyebrow area.
The hair grafts in the eyebrow line must be implanted in their proper direction and angle. The embedded eyebrows stay with you for a lifetime. Usually, an eyebrow hair transplant requires 50 to 100 hair units in total.
The treatment is extremely successful and safe. You will see a noteworthy change after few months of your surgery.
The procedure of Eyebrow Transplant
Eyebrow hair transplant follows the same procedure as your scalp hair transplant.
Marking your desired eyebrow shape and length
Shaving and cleaning of your donor area (mainly scalp)
Using certain numbing medicines for reducing the pain
Making stilt (pockets) at your eyebrow line
Extraction of healthy hair grafts from your scalp near your ear
Transplantation of grafts into your eyebrow line
The entire surgery requires 2-3 hours to complete. You will get the desired shape of eyebrows once the treatment is completed. Dr Mohit Srivastava does the eyebrow transplant treatment with high precision. It requires an artistic sense to perform the surgery.
Cost of eyebrow hair transplant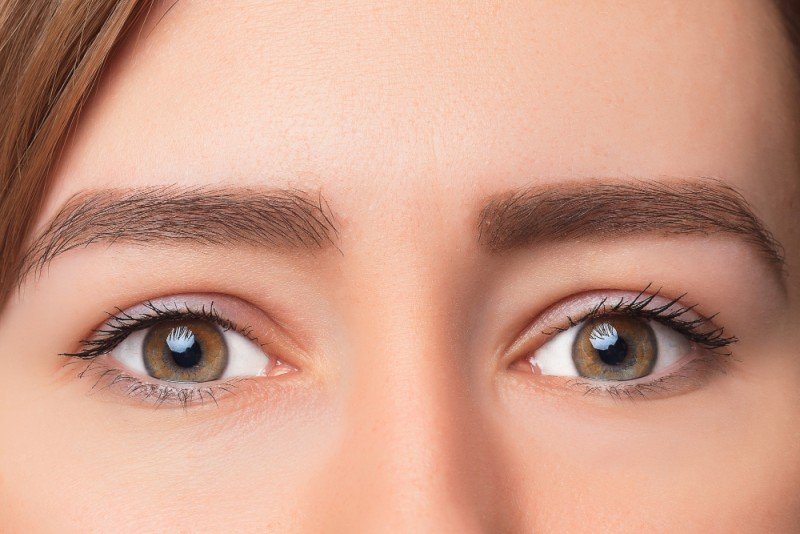 On average, the eyebrow hair transplant cost in Surat ranges between Rs 20 to Rs 25. The total cost of treatment differs from patient to patient according to their requirements. To know in detail about the cost, contact with us.
Before and After procedure care
Before surgery tips :
Stop using medicines that contain aspirin or any blood-thinning agent before the surgery.
Avoid smoking and alcohol consumption.
Do not have caffeine before your surgery on the same day.
Take vitamin C regularly before the surgery.
After surgery tips :
Strictly follow the doctor's advice.
Take all prescribed medicines routinely.
Avoid heat and sun exposure.
Do not worry if you experience bruising, redness, infection or inflammation after the surgery. All these will go away after a couple of days.
Precautions :
Think twice before going for an eyebrow hair transplant if you are suffering from any of the following-
Complicated related to cosmetic surgery previously
Bleeding disorder
Alopecia Areata
Advantages of eyebrow hair transplant:
Eyebrow hair transplant is very beneficial in the following ways-
You will get a thick and flawless eyebrow in a few months after the procedure
The treatment is safe
Upgrades your appearance with a more prominent eyebrow
Improves in your facial expression and communication
It is a lasting and least painful treatment
Conceals all scars and injury marks around your eyebrow line
You can continue your everyday life soon after the treatment
No need to string eyebrows, because you will be happy with their new shape and thickness
The treatment will give you an aesthetic look with excellent hair thickness
You will develop self-confidence with the new eyebrows
Why choose us
Hair 'N' Images provides the premium quality eyebrow hair restoration treatment in Surat. The reasons for choosing us are as follows-
We maintain proper hygiene while treating our clients.
Our clinic infrastructure and technology ensure your safety.
We have treated thousands of clients successfully to date.
We aim to provide guaranteed customer satisfaction to our clients.
The number of successful hair transplant surgery that we have performed at our clinic is more than 2200.
Till date, we have not received any complaints about our treatment.
Frequently Asked Questions :
1. When can I see the result of my eyebrow hair transplant?
You will see the changes within a couple of months. The primarily transplanted hair will fall, and then new hairs will grow again.
2. Are there any side effects?
No, the treatment is safe, and there are no long-lasting side effects. You may experience swelling, redness, inflation or inflammation. But they go away in a few days.
3. How much time will it require for the surgery?
The surgery generally requires 3 to 4 hours of time duration approximately. But the time duration can change according to your need.
4. What are the methods of hair transplant generally used in eyebrow hair transplant?
FUE is one of the most effective methods of hair transplant. Dr Mohit Srivastava generally uses FUE procedure for eyebrow hair transplant.